What are the implications for financial markets?
In the future, only benchmark rates that comply with the EU-BMR are allowed to use in new contracts. Next to that, they will trigger necessary changes in for example risk models. Global factors driving the transition are among others:
Stepping away from expert judgement and moving towards benchmark rates rooted in trades in deep liquid markets (globally);
There is a risk the liquidity of existing IBOR rates declines quickly by the transition to the new benchmark rates. In addition, banking panels are not obligated to contribute to the main IBOR rates (e.g. LIBOR) as of 1 January 2022. It is questionable how reliable these rates will still be;
The Benchmark Regulation (BMR) has been in force in Europe since 1 January 2018, which gives additional reason for, among other things, the replacement of the current Eonia rate and the reform of the current EURIBOR rates.
Adjustments of these benchmark rates will have significant consequences for business operations, customer interactions, control processes, systems & software, risk management (modelling), accounting and financial performance. It is necessary to deploy active and timely preparations to ensure readiness for the transition to new benchmarks.
The transition of IBORs: an upheaval to manage
There are vast challenges linked to the IBORs transition - from identifying the scope of contracts that refer to the current benchmark rates to updating these contracts and potentially renegotiating them with your clients and counterparties. Uncertainty remains regarding the termstructure for new benchmarks (e.g. 1, 3, 6 and 12- month rates), with markets still needing to develop in this aspect. Also beyond the legal, contractual and conduct risk matters at hand, financial institutions will also have to change their internal processes and the adoption of new rates will trigger valuation adjustments in management reporting and annual accounts. Finally, new products, with pricing adapted to alternative benchmarks, will have to be developed. Communication with customers about these changes will be fundamental, especially given the current environment of distrust of financial institutions.
Companies with a transition plan differentiated to include product types, linkage to IBORs, maturies, transition risk assessments, scenario analysis and clear milestones are considered best practice in the preparation for the transition. By participating in working groups, round tables and by acting on best practices insights and guidance from regulators and oversight bodies, financial institutions and financial market participants will be able to keep up with the transition and will have a head start in the new environment.
Beyond financial institutions: considerations for financial management
The IBORs transition will affect companies in multiple industries. Given that the pricing of many financial instruments is tied to an IBOR, upcoming changes could have considerable implications for financial management. To meet the deadlines, treasurers will need to carry out an evaluation and impact analysis of transition risks, create a roadmap and timeline, assess implementation costs, and look at areas such as contract management and documentation. It will also be crucial to assess what will happen to swaps and other instruments used in covering interest rate risks when the benchmarks they are based on cease to exist or are reformed. Furthermore, can contract fallback provisions be trusted to cover transition risks, especially legal or conduct risks?
How PwC can help
If you are the CFO or the treasurer of a financial institution or another company, the time has come to ask yourself a series of questions: Have you assigned the responsibility of identifying your group's exposure to contracts linked to an IBOR to someone in your team? Do you know the (effects of the) fallback provisions that will be implemented in case your group does not adjust all contracts on time? Will your company enter into new contracts based on a given IBOR, even knowing that the index will disappear in 2021? Do you know the average difference between €STR and Eonia, or between SOFR and USD-LIBOR? Do you have enough information and data to renegotiate your contracts on advantageous terms?
Within the IBORs-transition, institutions and countries are preparing themselves for the different benchmarks. PwC's IBOR and reference rate reform specialists across the globe can help you assess, prepare and execute reforms linked to the transition. We can work with you across the lifecycle of the transition, including: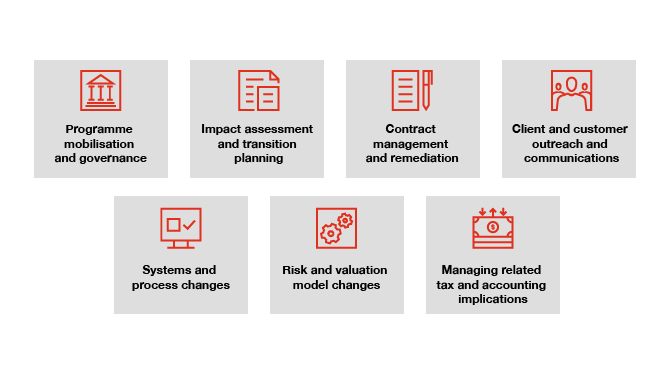 We have the experience required to carry out, coordinate and formalise both qualitative and quantitative impact analyses that include valuation and hedging in your portfolios – similar to the requirements in to various 'Dear CEO' letters. Or we could review your own efforts (completeness)if you are doing the reform internally.