1. Convergence 3.0 – tooling up to operate on multiple connected fronts in the digital landscape
Globally, the past twelve months have been marked by an increasing level of competition across all E&M segments. An already complicated global E&M world is changing ever more so.
When we take a few steps back, we see some intertwined, fundamental drivers of change (see exhibit 1). Consumers have a need for more personalised content and thanks to mobile technologies they are always connected, always on, wherever they are.
These drivers of change are applicable to most of the industry segments. Platform-driven solutions are winning ground in multiple segments. The drivers of change are forcing companies to compete cross-industry and develop new monetisation strategies. To a certain extent this is not new, since E&M companies have been battling for the attention of consumers, the budgets of advertisers, and for media spend and data for years now. What is new is that boundaries are becoming increasingly blurred and that non-E&M companies are entering the arena. The distinction between the various media types in the market is increasingly collapsing. Now that the most prized assets in the digital age have been determined, competition for those assets is coming from every conceivable direction.
The Dutch operating environment is no exception to this global trend. On the contrary, consumers are embracing new propositions and local businesses are heavily impacted by either international takeovers or international competition. International companies dominate the E&M market in the Netherlands.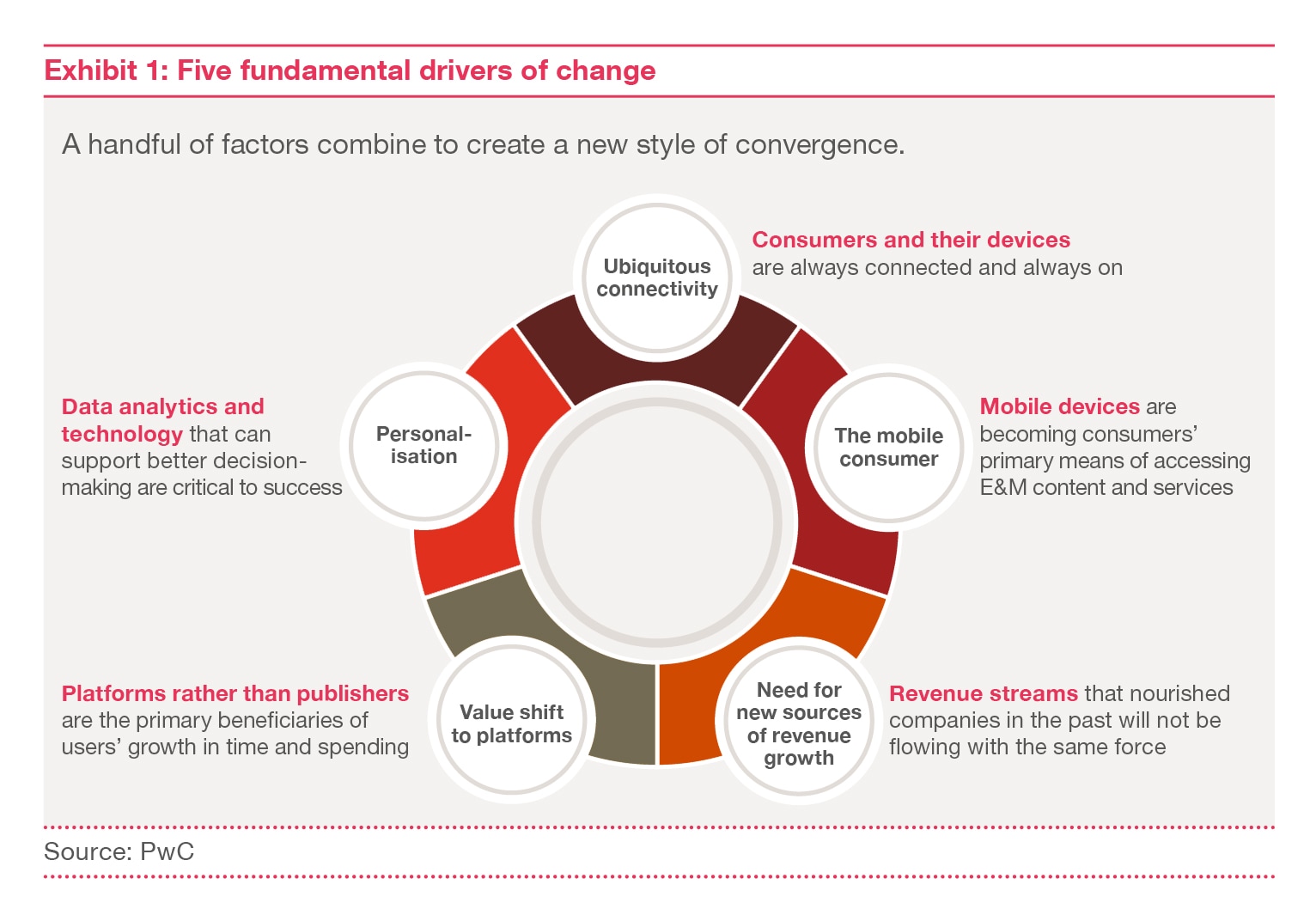 The rise of super competitors
The further drive of convergence also has an effect on the rise of so-called super competitors. Size matters, especially in a platform environment. The current impression is that super competitors can combine technologies and large budgets, and enter into any segment they deem to be relevant in order to get direct access to large audiences. This lack of a level playing field is an ongoing challenge for smaller business. Just one example to put this into perspective: mid 2018, super competitors announced to invest one billion US dollars in NewTV, a video start-up focussing on on-the-go 15-minute video content. In parallel, Dutch public broadcasters need to cut costs so that they can offset a foreseen decline in TV advertising revenues.
The rise of these super competitors does not necessarily mean that all smaller E&M companies will seize to exist. The super competitors have created deep-pocketed market participants that can buy content, invest in scale-ups, and serve as buyers for maturing businesses. Local companies can try to either focus on a niche market, enter into partnerships with super competitors, or even grasp the opportunities new technologies have to offer and reach international audiences themselves.
Based on many discussions we identified three key ingredients that smaller E&M companies require to build scale and remain relevant:
Be a powerhouse of quality and engagement. Create a sense of identity and community with customers by delivering high-quality experience.
Deliver brand-consistent content and advertising. Address the interests and preferences of fans with regard to content and advertisements.
Aim at high-value, hard-to-reach audiences. Target content and experiences at high-value audiences that others find challenging to attract, and turn them into loyal fans.
We are positive that these ingredients are and will remain available in the Netherlands. The Dutch E&M industry shows that the Netherlands is still a hotspot for growth, creativity and innovation; an example is Messagebird, which raised a staggering 51 million euros investment at the end of 2017. The company has reinvented a way to monetise a seemingly dead SMS service. Other companies that have transitioned into and beyond the scale-up phase are for example: MediaMonks, Squla, Talpa Network, Triple and Zuiver Media. They prove that the Netherlands is a hub that encourages innovation.
2. Without ubiquitous connectivity no growth
24/7 connectivity to consumers underpins and enables increasing digital revenues. Ever-faster Internet access further enables this. In markets with high fixed broadband penetration, such as the Netherlands, consumers will increasingly access the Internet via a growing number of new and emerging devices for inhome use. Connected TV set-top boxes, smart TV sets and media streamers like Apple TV and Google Chromecast will become widespread. Additionally, online gaming on different platforms (PC, console, tablet, mobile) has shown to have a strong effect on the increased demand for high-speed internet access.
This year also sees the first launch of 5G services in select global locations; T-Mobile Netherlands took a first step towards such services by activating its first antenna with 5G technology in the city centre of Amsterdam.
With the rise of unlimited mobile data bundles, combined with the unrelenting and increasing appetite for data, data consumption via mobile phones will have a strong impact on the E&M market. Improvements in speed, quality and reliability positively affect such areas as on-the-go video and mobile gaming. Consumers will have access to more video, multiplayer games, as well as immersive VR and AR experiences. Streaming series via mobile networks will increasingly be vessels for distributing video content, be it free content such as that on YouTube or Facebook, or underpinning the expansion of pay-forsubscription services like Netflix, or watching live sports games. The development of unlimited mobile bundles and improved mobile access can also influence the total amount of time consumers spend on media, which still shows upward potential. This brings opportunities for new propositions, and may be a lifeline for traditional media as not all time consumers spend on new propositions is cannibalizing existing media usage.
3. New tech presents new opportunities for advertisers
PwC analysed more than 150 emerging technologies to pinpoint the essential eight: a set of technologies that every organisation, both in E&M and beyond, must consider when formulating a tech strategy (see exhibit 2). They will have a major impact on the E&M and telecom industries.
New technologies and devices, like artificial intelligence (AI), VR and AR, voice-based smart home devices and virtual assistants, look set to drive innovation in internet advertising on a global scale in the coming years. Within the changing contexts created by new technologies and devices, stakeholders will aim to devise and deliver new ad formats that can drive revenue and return on investment for advertisers.
AI will have a pervasive impact on all companies, not just advertising companies. We already see many examples of E&M companies applying AI to improve the customer experience as well as to create content. Pilots include the creation of music, books, movies and game content. AR and VR are also beginning to play a supporting role and blockchain is likely to enter the conversation. For instance, for managing royalty rights.
We have high expectations from these new technologies, as they will further improve the customer experience. However, we need to bear in mind that these technologies can have negative side effects.
Exhibit 2: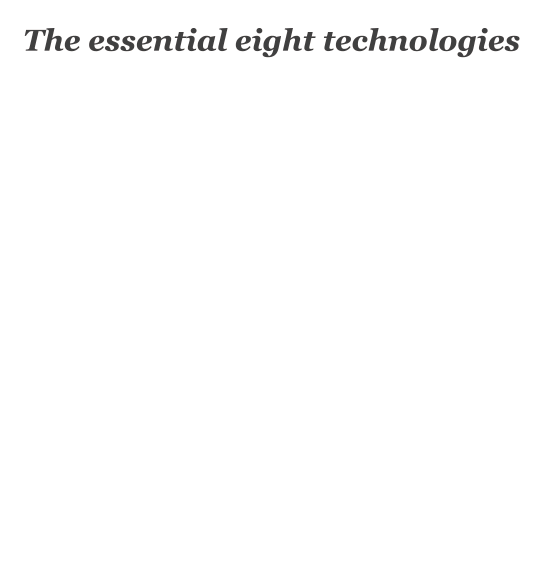 Technology is driving new revenue streams for gaming industry
The gaming industry is a great example of how new technologies can drive additional revenue growth. Advancements in VR and AR generate new revenue streams from both a hardware and software perspective, and although arguably still in their infancy, we see their potential starting to materialise. In addition, increasing mobile device capabilities mean that serious gaming on these devices looks ever more likely. Both lead to a significantly increasing addressable market.
Netherlands-based Spil Games, for instance, reached 300 million mobile game downloads in March 2018, thanks chiefly to its quirky Troll Face Quest series. Spil has stated that augmented reality (AR) and VR "will feature heavily in many future games"; in general we can expect a glut of AR games to arrive later in 2018 as Apple and Google promote their mobile AR platforms (ARKit and ARCore respectively). Dutch developer Vertigo Games recently released an expansion for their popular VR shooter Arizona Sunshine, which broke sales records for standalone VR games when it was launched in 2016.
One of the most fascinating developments is the further emergence of mobile games as an important esports vehicle. Amazon first tested the waters in late 2016 with its Champions of Fire tournament of mobile game titles, but already Clash Royale and Hearthstone are established on the circuit, with more ambitious titles to follow, such as Arena of Valour. Meanwhile, Fortnite Battle Royale, the runaway success story of 2018, has owner Epic Games willing to provide 100 million US dollars (85.8 million euros) in prize money, and launched its first mobile version in March 2018. The lower entry barrier for such games – a smartphone or tablet as opposed to a fast PC – could lead to a major democratisation of a viable competitor base of esports. Platform tech companies need to be aware of this – an app that enables the smoothest possible esports experience, such as that perfected by poker apps, is likely to have pick-up in the high tens of millions.
We should sound one note of caution for the wider E&M industry. This surge in consumer' gaming time is partly substitutional, rather than incremental. The success story of gaming may well come at the expense of reduced leisure time spent on other forms of entertainment and media experiences. We suggest other media to investigate how they can incorporate this shift into their own business models.
4. Trust: Brand safety and data protection head the list of advertiser priorities
Although digital focussed companies still show significant growth, it is not all blue skies. These companies need to be aware of their role in society. We have seen recent examples in the news of large international players getting a hit from legislators, investors and customers due to mismanagement of consumer data and inappropriate links between content and advertisements.
Together with consumer behaviour and potential legislation, the news will undoubtedly have a profound effect on the broader ongoing digital ad strategy of the industry. Some have suggested that bad publicity, as we have seen in 2017 and 2018, temporarily tip the balance back in favour of traditional media.
The rising importance of data, and the central place that the usage, storage, sharing, mining and safety of consumer data plays in the emerging landscape, is pushing trust to a central position.
While brand safety and protection can be a limiting factor for a company if not acted on in a timely manner, it can also be a differentiator and fuel further growth. Companies that enjoy the trust of everyone they do business with will enjoy a competitive edge over those that do not. Trust will therefore be a vital determinant of the sector's ability to attract and retain revenues in the future. We differentiate five dimensions of trust, as summarised in exhibit 3.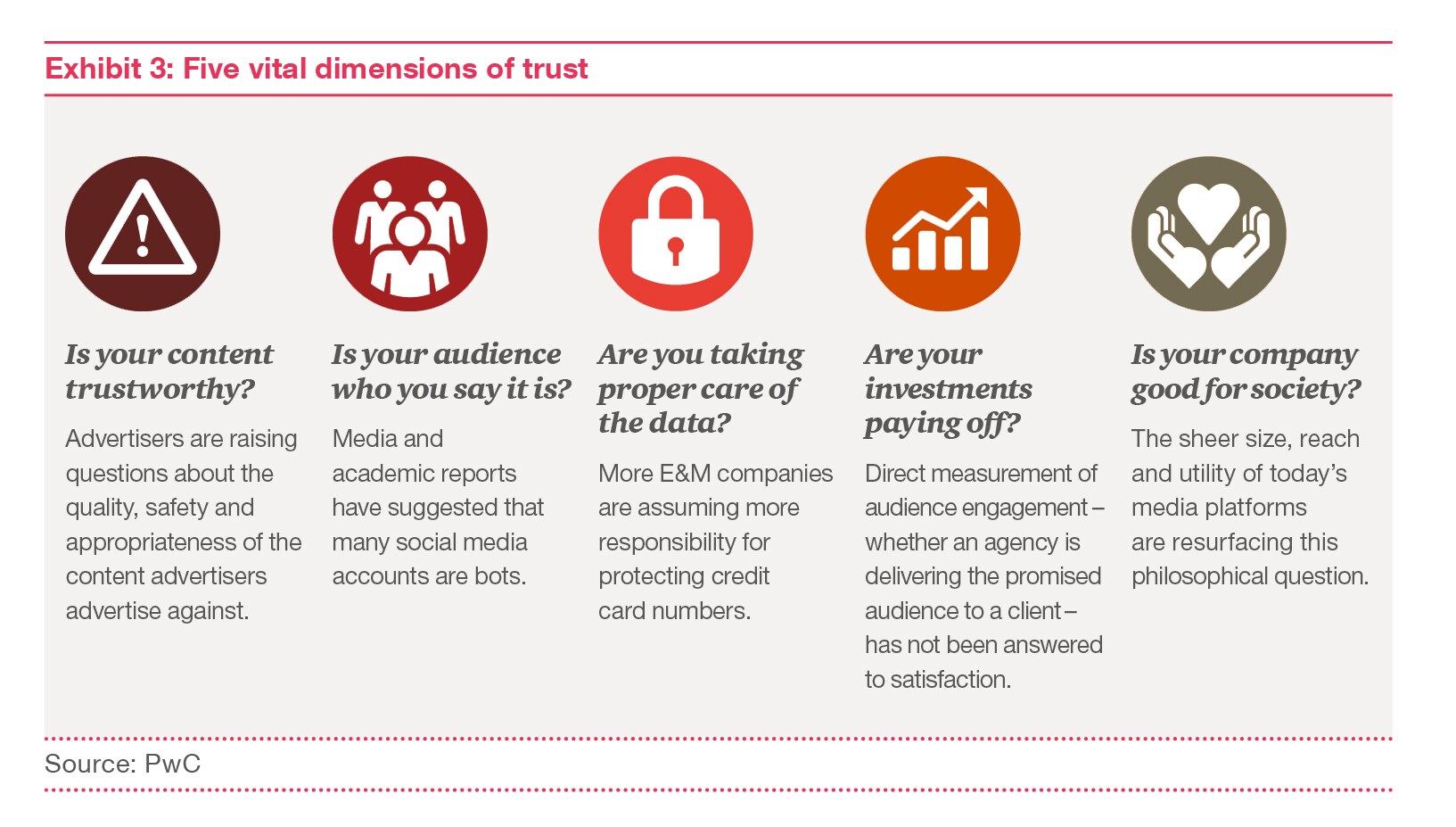 Yet, it is not just the concerns of advertisers that need to be accounted for if digital advertising is to remain on a rapid growth trajectory. The consumer experience is also an extremely important consideration that needs to be addressed, and the privacy of individual consumers is of paramount concern for ad-tech vendors, advertisers and platform owners. Regulators have already made moves, such as the EU with its General Data Protection Regulation (GDPR). GDPR protects the interests of consumers and their data, which means that mistakes in this area will not just be damaging to consumer trust, but also highly costly in monetary terms.
Though GDPR is an EU regulation, its impact has a global scope, as countries outside the EU bloc seek legislative parity and multinationals based outside the EU are forced to either comply or cease operations in the region. This is especially challenging for multinational ad-tech vendors. These vendors often do not have the consumer-facing platforms necessary to obtain the individual consent required to access consumers' data and provide services, such as targeted advertising based on that data. Internet advertising retains its status as a major growth story, but the past twelve months have made it a far more complex place in which to operate. This is true of the E&M world too, with decision-makers needing data of unprecedented detail and granularity to navigate this world.