Transfer Pricing Implementation
The business model used by multinationals to operate their business is the basis for their transfer pricing model. A sustainable transfer pricing model is fully aligned with a company's
business model;
contractual and financial position; and
actual conduct.
All taxpayers with intercompany transactions –whether complex or simple – should pay attention to the implementation and control of their transfer pricing model. This will allow for faster and more accurate tax provisioning, easier tax return preparation, and will reduce the risk of double taxation, audits and penalties.
Being in control requires you to take three recurring steps
To regularly align the transfer pricing model and documentation with the business model

Ensure that the actual conduct of the business, changes over time, and any significant occurrences which may trigger a review (e.g. acquisitions, integrations, changes relating to intangible property, or moving of senior employees) are reflected in the transfer pricing model.

To implement and execute the transfer pricing model

Ensure that the transfer pricing model is recorded and embedded in the financial administration of the business;
Clarify how prices per product are calculated in practice, and which mechanism is used for price setting; and
Consider the potential impact of differences between commercial and tax accounts.

To monitor and control the transfer pricing model

Check regularly that the results are in line with the transfer pricing model and make real-time adjustments, if needed, in order to reduce risks.
We can help you in the following ways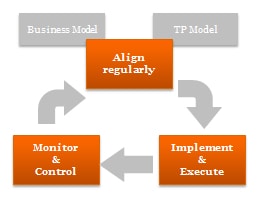 Performing or updating the functional analyses underlying your transfer pricing model;
Preparing a transfer pricing manual for those employees dealing with the transfer pricing model in their daily work (e.g., tax department, finance department, legal department, operations), which describes responsibilities, actions, timing, calculation methods linking to ledgers, etc.;
Preparing or reviewing intercompany agreements for all transactions in accordance with applicable law, comprising title, description and terms and conditions (including price and price adjustments);
Testing your management maturity and control level.
PwC can provide you with several tools, such as TPCR and T3M, which can help you create awareness, determine objectives, and address gaps with regard to your transfer pricing implementation.